Centurion Service Group understands that time is precious for medical equipment buyers. That being said, our goal is to make auction participation an opportunity for everyone, even those who may not have enough time left to carve out in a day. Proxy bidding allows buyers to be able to participate in auctions even if they are unavailable to bid live themselves, whether that's on-site or online. This stress-free bidding method makes participating in auctions easier and less time-consuming for buyers. Continue reading to view our simple four-step guide on proxy bidding.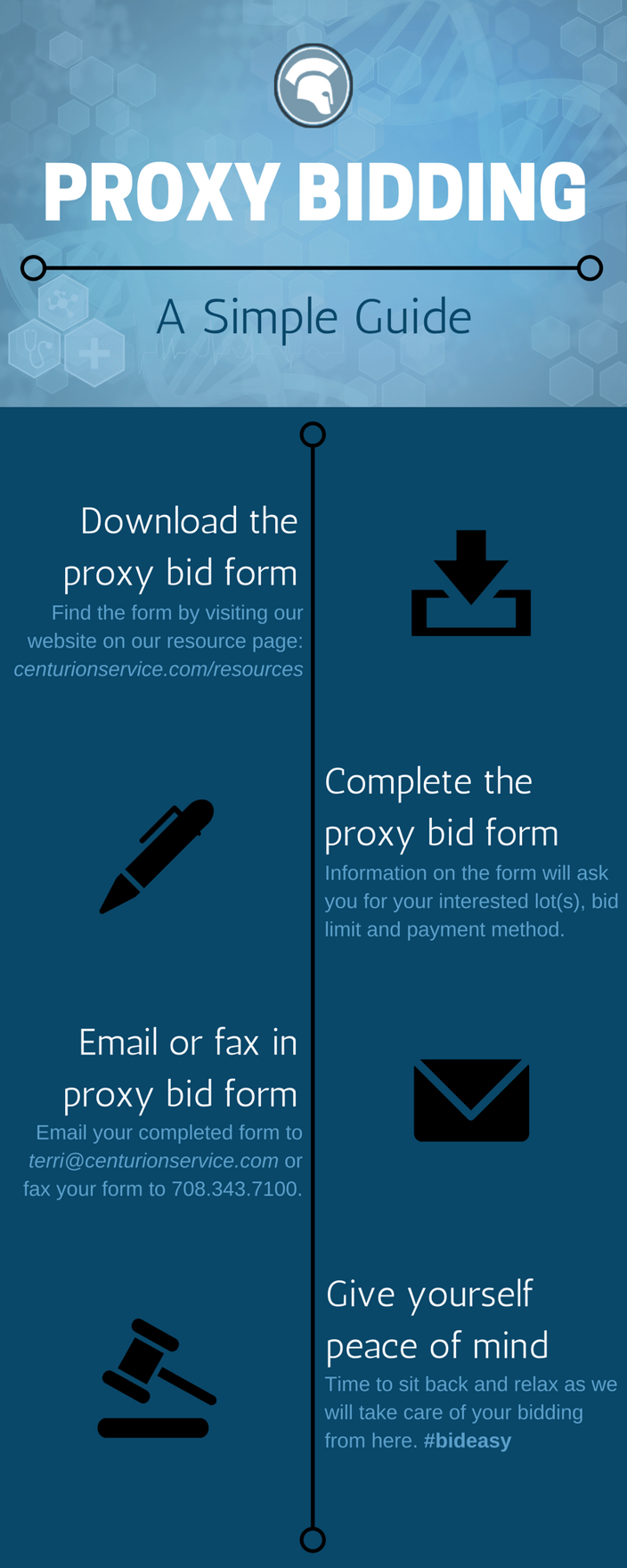 1) Download the proxy bid form
If a buyer is unable to participate in a live auction either on-site or online, one can still participate by first downloading the proxy bid form which can be found on the Centurion website on the Buyer Resources page here: www.centurionservice.com/resources
2) Complete the proxy bid form
After downloading the proxy bid form, one will need complete the form with the following details: the buyer's contact information, what lot(s) the buyer would like to place a bid on, the maximum amount the buyer is willing to bid on the lot(s), and the method of payment.
3) Email or fax in proxy bid form
Once the proxy bid form is completed, the buyer will need to submit the form to the Centurion Service Group office by either faxing it to 708.343.7100 or by sending an email to Centurion's auction manager at terri@centurionservice.com.
4) Give yourself peace of mind
When Centurion has received the completed proxy bid form, we will send the buyer a confirmation email. After that, all you need to do is sit back, relax and allow the Centurion team to take care of the rest. Invoices are sent 24 hours after each auction.
For further information, please view our Frequently Asked Questions page here. If you have any further questions on proxy bidding, please contact us at 708.761.6655 or send an email to at info@centurionservice.com. #bideasy